Grove House
---
PROGRAM ︎
Single-family house
---
CLIENT ︎ Private
---
SITE
︎
Dumbrava Vlăsiei, jud. Ilfov, Romania
---
AREA ︎ 160 sqm
---
STATUS ︎ Concept design. National ideas' competition | 2018
---
ARCHITECTURAL CONCEPT ︎ APLUSNOIMA ︎
Alexandra Berdan, Ancuța Costandache
---
STRUCTURAL CONCEPT
︎
ATELIER STRUCTURA ︎
Andrei BOBU
---
A grove in a house from a grove...


"(...) one lives normally and naturally when they can move in their house also vertically.
(...) A house must leave room for mystery: it should have unseen spaces, mysterious places, sublimities and undergrounds. It should have a face. "

Andrei Pleșu, Houses of our lives, ed. Humanitas, 2014
For many young families, the dream of living in a house means a freer, more comfortable, quieter, healthier life, also closer to nature.

The Grove House gives shape to this dream, where belonging to an open community is intertwined with the need for intimacy, and nature is not replaced but, in a way, whole.



The compact living space fits rigorously into a square plan.

The house is softly approaching the street. It then rotates, to carry on a direct dialogue with the southern sun, thus marking the boundary between public and private space.
On the ground floor, the living area opens up to the garden.
Separated from the "public" life of the house, the intimate lives of the family members are contained by the inner core, in the bedrooms that follow one another vertically.




section ︎

︎ living room, stair-case, master bedroom ︎

︎ terasă acoperiș ︎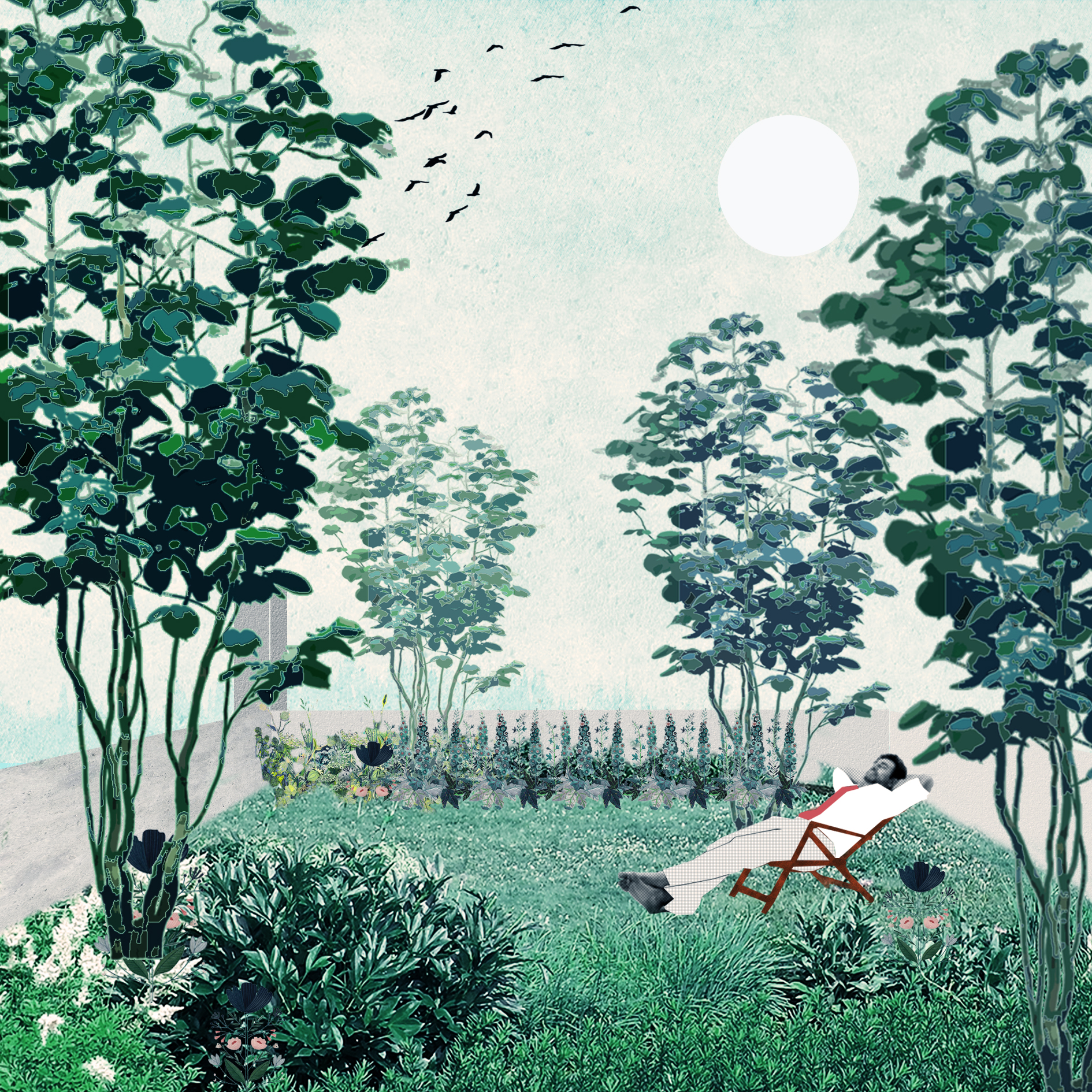 The journey begins and ends in the grove.
The journey through the house offers a vertical path full of light with permanent changes of perception both inside and outside. The core of the house, subtly protected with translucent walls, is detached from the carefully perforated facades. The staircase, like a "watch-road", surrounds the night area, filling the space between the Each bedroom reaches out and pierces the outer shell to look out onto the garden.