Împreună în pauză
---
PROGRAM
︎ Interior design - lunch space in an office
---
CLIENT ︎ Cegeka
---
SITE ︎ Iași, Romania
---
AREA ︎
26 sqm
---
STATUS ︎
Concept | 2019
---
DESIGN TEAM
︎ APLUSNOIMA ︎
Ștefania Borș, Alexandra Berdan
---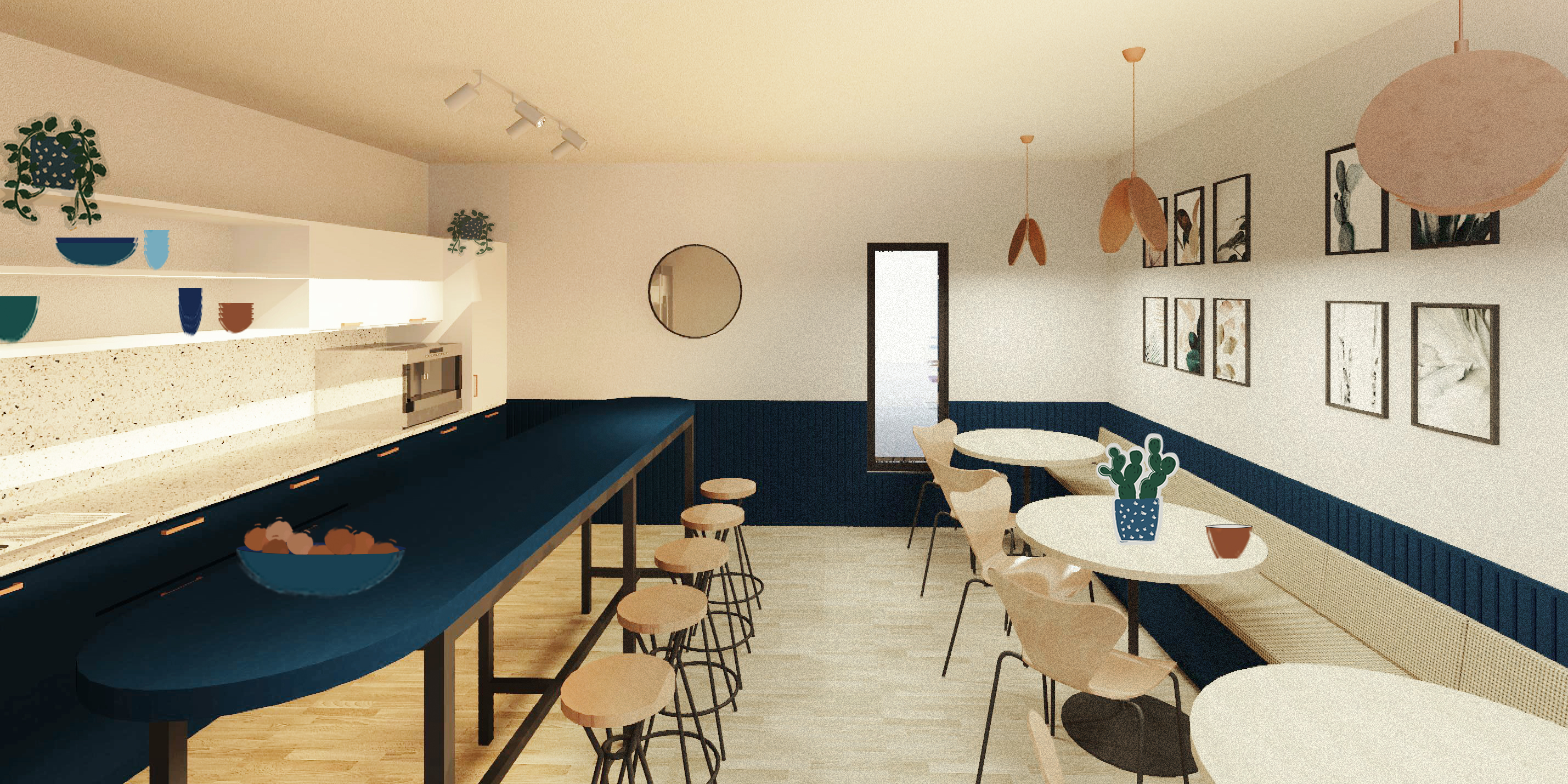 The lunch break is more than a functional break during an ordinary working day. It is, above all, an opportunity for meaningful relaxation and disconnection, a pretext to catch up on stories and exchange ideas with fellow work-mates.

The 26 square meter space dedicated to the future kitchen and eating space for the
Cegeka
offices is located in the midst of an office tower in Iasi.
The challenges of the space are the lack of direct natural light and the need to incorporate a generous storage and preparation area and also at least 12 seating places.
furniture layout ︎
The furnishing proposal makes the space pleasant and efficient with simple gestures:
A vertical window brings natural light into the space from the work area.


The wall to the right of the entrance receives a long fixed bench. The bench offers a large number of seats (between 8 and 14) and allows for various scenarios of use together with round tables and 5-6 mobile chairs.


A bar-type island separates the two functional areas of the kitchenette (the preparation area and the serving area) and offers up to 10 additional seats.
axonometic views ︎
The space subtly incorporates the colors of the Cegeka brand. Combined with natural textures and fabrics a warm, coffee-shop-like atmosphere is achieved, where meaningful conversations happen naturally and are welcomed.

Unfurnished walls are protected from wear-and-tear with blue painted wood panels. Thus, a perimeter belt visually links the various functional elements and gives coherence to the space.

Pictures with plant references bring natural elements to the foreground and a relaxation state is induced.
color palette ︎

interior elevations ︎